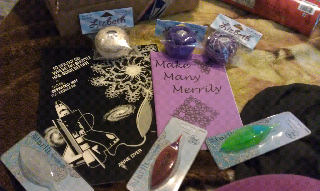 My first half of my thread replacement arrived today. A few months back my daughter got away from my Honey and seriously depleted my thread stash. It was agreed that I be allowed to replace said stash plus get a few
extras
as way of apology. I was going to get the peacock book everyone was raving about (still might birthday is 2 weeks away) but decided to stretch my dollar, as it were.
I got some shuttles because I gave a couple of my favorites away to a new tatter, to start them off. Then I remembered my Mother-in-law asked for a rosary in purple. The Purple Marble is so gorgeous! Also the Latte Foam does not match my mat. Looks like I need to buy some more thread from
Marliee
soon.
The black book by Anne Dyer I
had
to get because the title called me. To boldly go where no shuttle has gone before...come on it's challenging me, I couldn't say no. The other is by Karey Solomon. I saw
Fox
make a motif who's shape intrigued me.
I wasn't sure which of Kareys books it was but as luck would have it, I picked the right one!
Links will be added when I get to a computer.